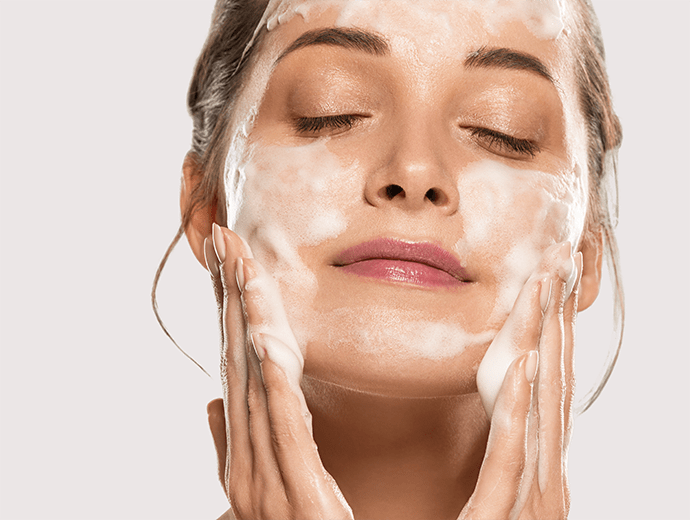 More isn't always better. Sometimes simplifying your daily skincare regimen may actually reap greater rewards. Why? The most effective skincare routine is the one you'll actually keep doing. And most experts agree that using fewer products (and thus, having to follow fewer steps) typically yields the greatest compliance—and results.

Having a simple skincare routine can also lower the risk of irritating or sensitizing your skin. Slathering on multiple formulas packed with active ingredients may mean you're loading up on too much of a good thing, like exfoliating ingredients. And this can result in a compromised skin barrier function (that's the wall of ceramides and other natural substances that keep moisture in and irritants out of the skin), leading to chronic dryness, flakiness and, yes, sensitivity.

So how do you adopt a simple skincare routine, use fewer products—and still maximize results? The smartest strategy is to choose multi-tasking, hard-working formulas with the best ingredients for your skin—all designed to be used together in a streamlined routine. For most, that means designing a routine that consists of three simple skincare steps:
1. Cleansing/toning step
2. Treating
3. Moisturizing
Here's how to put together a less-but-better regimen:
Step 1: Cleanse and Tone

Washing your face at day's end is an essential part of any routine for two reasons. First it ensures you are removing any skin-aging environmental grime and pollution that's accumulated on your face, neck and chest during the day. Second, it keeps that buildup from inhibiting the penetration of any treatment or moisturizing products you apply after you wash. (Cleansing in the morning is also important because it refreshes and rejuvenates the skin—and it paves the way for your daytime treatment products.)

To choose your best skin-cleansing formula, you'll want to look for ingredients that gently but thoroughly remove grime and makeup, without stripping away essential skin oils. A good cleansing formula should also gently exfoliate and leave the skin feeling supple.

Neolastin Wash & Refresh Cleansing Gel Cream does all of that and more. This rich foaming formula utilizes clarifying bilberry to clean and rebalance the skin; sugar cane to gently remove dead skin cells; and sugar maple to get rid of acne-causing bacteria. The gel-cream also contains a blend of orange and lemon, which leaves the skin soft and comfortable.

For best results, it's ideal to use the cleanser in conjunction with Neolastin's Exfoliate & Smooth Triple Hydroxy Acid Toner. This clear liquid contains glycolic, lactic and salicylic acid to thoroughly, yet gently polish the complexion and keep pores clear–as well as remove any leftover grime. The toner is also laced with niacinamide, an essential component in building new, healthy skin cells. To use, apply to a cotton pad, like Neolastin Reusable Cotton Rounds, and sweep over a freshly-cleansed face.
Step 2: Treat

To optimize a simple skincare routine, it's important to always have a hero anti-ager in your lineup—something that boasts proven skin-smoothing, repairing and firming ingredients. In most cases, this product will be a serum because it typically contains a higher concentration of anti-aging ingredients than lotions or creams.

Neolastin's Face & Neck Regenerative Serum utilizes a bevy of high-performing actives—all in a formula that's so lightweight it melts right into the skin. Its star ingredients include hyaluronic acid, which attracts and hold on to moisture; peptides, which support collagen production and keep the skin firm and plump; and NUFLEX™, Neolastin's proprietary complex, which protects the skin from environmental aggressors—as well as strengthens and builds elastin fibers, the stretchy protein that helps skin retain its youthful elasticity.

For best results, a serum should be applied twice daily, immediately after cleansing and toning.
Step 3: Hydrate

Moisture is what keeps skin plump and soft, so you need to commit to daily application—once in the morning and again before bed— to keep skin hydration levels healthy.

Neolastin Rejuvenate & Hydrate Moisturizing Cream makes skin feel instantly hydrated and refreshed, thanks to hyaluronic acid, which is like a moisture magnet for the skin. The plush formula also contains Neolastin's proprietary NUFLEX™ blend, which locks in moisture and minimizes the appearance of fine lines and wrinkles. Upon application of this silky cream, the skin looks and feels instantly firmer and smoother.

While the Rejuvenate & Hydrate Moisturizing Cream is appropriate for all skin types, the delicate area around the eyes is best treated with a blend specifically made for that thin, vulnerable skin. Neolastin Revitalize & Firm Eye Cream safely, gently nourishes the undereye area, without any irritation. Bonus: The formula also helps smooth fine lines and wrinkles and diminish dark circles.

For best results, hydrating face and eye creams should be applied right after a treatment serum to seal in the serum's active ingredients—and to lock in moisture all day or night.

Note: If you will be spending any time outdoors—or work near a window—sun protection should be applied in the morning, after the hydrate step. There are a number of effective sunscreen formulas (and, again, the best product is one you'll willingly use), but most dermatologists say to opt for a product that has broad-spectrum protection and an SPF of at least 30. And if you're going to be outdoors for an extended period of time, reapply your protection every two to three hours.