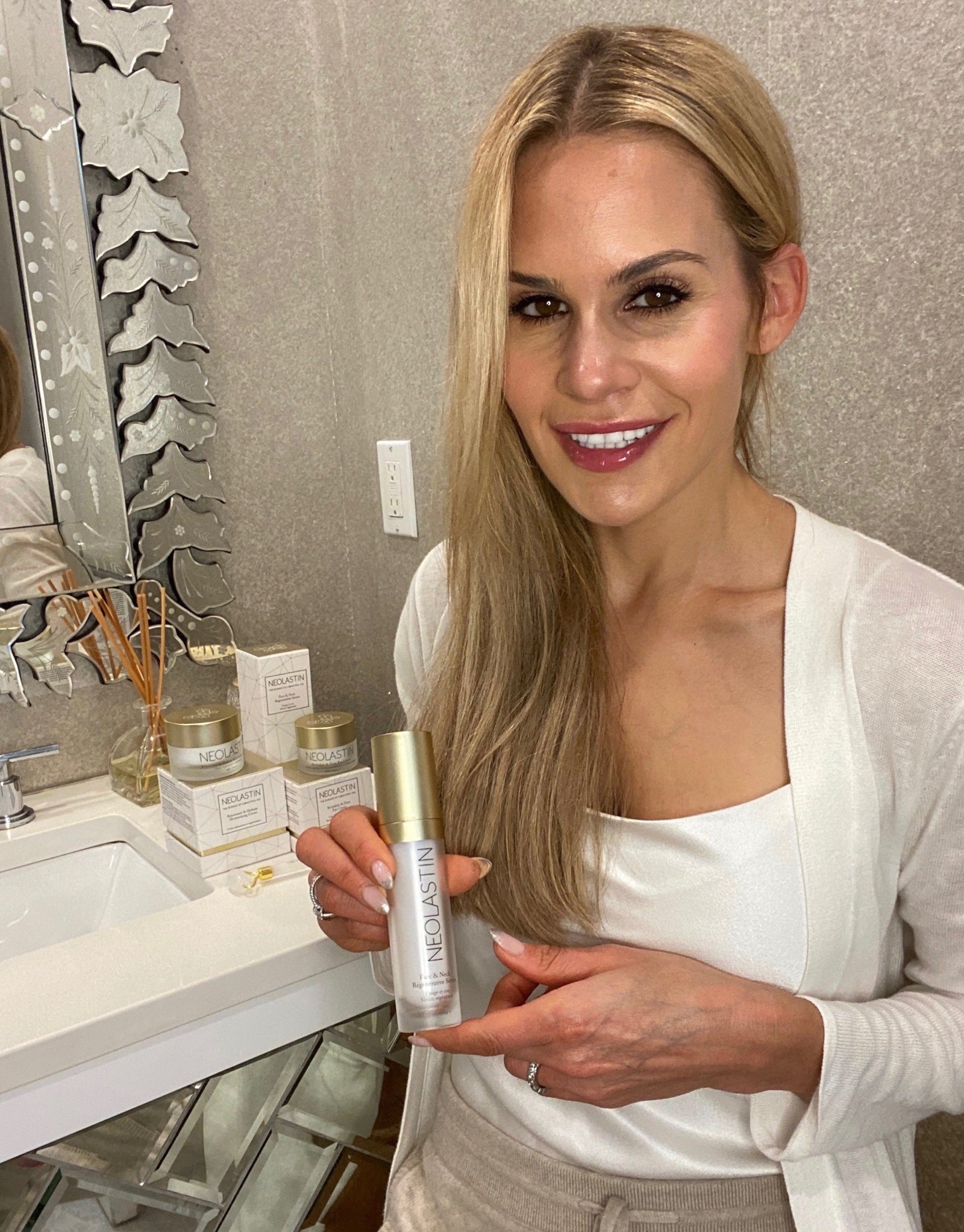 By RHONJ Jackie Goldschneider
As a busy mom of 4 kids, it's easy to get caught up with the day-to-day endless grind of work, home and family activities. The to-do list and running around could monopolize my time if I let it.  Which is why it is so important for me to prioritize my self-care rituals. Working out and writing are some activities I do to let go of stress and focus on my physical and mental health. But one of my favorite (and most relaxing) things to do is my daily skincare routine.
Taking care of my skin is as important as taking care of my body. 
The same way that I devote my workouts to keeping my body fit and strong, I choose skincare products that are meant to keep my skin looking healthy and youthful. Neolastin is a brand that I can trust with my skin. Developed by scientists at Clemson University, the line is centered around Nuflex technology. It's designed to not only keep my skin hydrated, but also protect it from environmental damage, while boosting collagen and strengthening elastin fibers – all very important things to fight against the signs of skin aging. 
My routine is simple. 
Every morning and night before bed I use their products that aid in anti-aging and cell renewal for a youthful look, and I have noticed a huge difference since I have been using Neolastin's 3-step system. 
Step 1: Face & Neck Regenerative Serum
After cleansing I apply 2-3 pumps of this serum all over my face and neck. It's gel texture smooths on easily and absorbs quickly. 
Step 2: Rejuvenate & Hydrate Moisturizing Cream
I apply this rich cream overtop of the serum. It's like a drink of water for my skin – making it look and feel refreshed and soft.
Step3: Revitalize & Firm  Eye Cream
The skin around the eyes is delicate and can quickly show that this mom is tired. That's why I tap on this eye cream twice a day. It helps to minimize dark circles, under-eye puffiness and fine lines. 
Since using Neolastin and their 3-step system with Nuflex technology, my skin has become more youthful, and I have seen a big difference in my overall texture and appearance. My days are often chaotic and busy, which can wear on my skin, but I feel confident knowing that my skincare products are working overtime. Neolastin's unique NuFlex technology is backed by science and formulated  to help keep my skin refreshed, healthy and glowing.