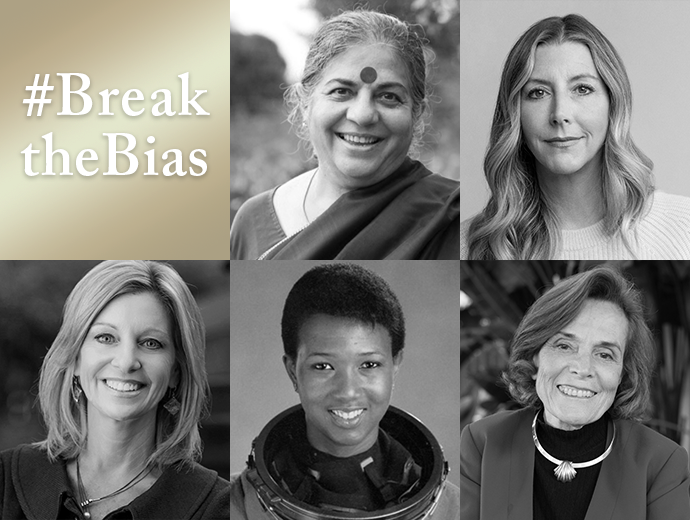 In celebration of International Women's Day we want to spotlight just a few of the fearless, innovative leaders who are actively breaking down barriers in our workplaces, and in our communities. These women are not only helping to create a world free of bias, stereotypes and discrimination, but are also making a difference by simply breaking the glass ceiling. They inspire us, they empower us and they set a new standard for a better, more equal tomorrow.
Vandana Shiva
Director of the Foundation for Science, Technology & Ecology, Board Member International Forum on Globalization
Indian physicist, scholar, environmental activist, feminist and author (of more than 20 books), Shiva has devoted her career to fighting for biodiversity conservation, food sustainability and ethical methods of agriculture. Her goal? Creating healthier, more environmentally friendly means of food supply chains; and keeping large corporations in check by eliminating harmful pesticides on seed harvests and the privatization (and domination) of water resources. Shiva has not only served in many high-profile advisor positions to governments like India, but has been called the "Gandhi of grain" for her work to end world hunger and her dedication to Mother Earth. Her Navdanya movement is earth centric, women centric and farmer centric and focuses on protections for biological and cultural diversity.
Dr. Sylvia Earle
Oceanographer, and National Geographic Explorer-in-Residence
American marine biologist, explorer, lecturer and author (of over 100+ scientific papers), Earle is a pioneer in self-contained underwater breathing apparatus (SCUBA), deep-sea submersibles (designing the Deep Rover, a vehicle that can reach 3000 feet beneath the surface of the ocean), and holds the world record for the deepest untethered dive. Her career has centered around her research on marine algae, and to raise awareness of the threats to overfishing and ocean pollution. She founded Mission Blue, an organization dedicated to protecting the ocean from human destruction, climate change and invasive species.
Dr. Mae Jemison
Founder Jemison Foundation, principal of the 100 Year Starship study
American doctor, engineer and former NASA astronaut, Jemison broke through bias when she became the first black woman to travel into space when she orbited around our Earth 127 times aboard the space shuttle Endeavor. She served as an astronaut for six years before leaving NASA to start the Jemison Foundation. The technology firm serves to partner socio-cultural issues into the designs of engineering and science projects like medical devices and satellites. They also created international science camps for teens called The Earth We Share (TEWS). Today, Jemison is leading the 100 Year Starship project through the United States Defense Advanced Research Projects Agency (DARPA). The goal of the project? To make sure humans can space travel to another star within 100 years!
Karen Lynch
President and Chief Executive Officer of CVS Health
American businesswoman, Lynch has a habit of breaking through glass ceilings – including becoming the first female president of Aetna and now, CVS Health. Not only has she been recognized as one of Fortune's Most Powerful Women in Business (2020), but also named on Forbes' list of The World's 100 Most Powerful Women.  Her passion for healthcare helps drive her nearly 300,000 colleagues to transform the healthcare system for the better through simpler, more convenient services. During the start of the pandemic, she put CVS Health on the frontlines, as a destination for COVID-19 tests and vaccines – giving more than 34+ million doses since May 2020. Her long-term strategy? Make CVS pharmacies the new destination for all things healthcare, including more access to health screenings, vaccines and primary care physicals.
Sara Blakely
Founder Spanx, and Spanx by Sara Blakely Foundation
American businessman and philanthropist Blakely created a fashion empire by accident. When she couldn't find an undergarment to seamlessly wear under a pair of white pants, she took her scissors and cut up a pair of tights to create one herself.  20+ years later, her SPANX undergarments are lingerie staples for millions of women, and her brand has reached billion-dollar status. After selling a majority share of her business in 2021, Blakely now focuses on her Spanx by Sara Blakely foundation, dedicated to empowering women to start their own businesses, support their education and make a better place in our world.
On International Women's Day and everyday, we're thankful for the women and girls who are pioneers in their fields of work and their schools – who are striving to make great changes in the name of a world free of bias, stereotypes and discrimination. At Neolastin, we stand with the #BreaktheBias movement because we believe there's no limit to what women can do.